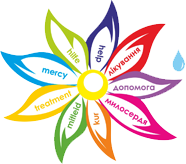 Charitable Foundation for giving palliative care to incurable patients "Mother Teresa"
Ivano-Frankivsk Regional Clinical Centre Palliative CareA drop of mercy is more than an ocean of mind
On May 17, 2019, a five-day training course was completed at the education center of palliative care. The topic: "Palliative Care Aspects for Children and Young People. Symptom Control ".


© 2020 Charitable Foundation "Mother Teresa". Ivano-Frankivsk Regional Clinical Centre Palliative Care